Benefits of a Drive-up Storage Unit
Why should you consider a drive up self-storage unit as you search for a storage unit option for your stuff? These storage units provide several benefits, including:
• Ease of loading and unloading belongings
• Larger doors for storing furniture and large items
•A variety of unit sizes, including 5 x 10 unit, 10 x 10 unit, and 10 x 15 unit options
• 24-hour access in most facilities
​​​
With a drive up storage unit, you can store all of your extra stuff in one location. Maybe you have an elaborate outdoor holiday display. Rather than stuffing it all in your basement, taking up valuable space in your home, tuck it away in a storage unit until you're ready to use it. Maybe you run a business and have gear or files you may need later, but don't need right now. Again, store these, and keep them accessible when and if you need them.
The benefits of a drive up storage unit are endless. Find one that fits your needs and enjoy access to your items while still keeping them safely, securely stored away.
Available in over 6000 locations, you will be thrilled at the selections we have to offer in every state. No matter where you go, our drive-up self-storage units are right there for your availability. Options vary between each facility. Some units do have climate-controlled access and heating for winter months. Check with the self-storage facility for more specifics.
Most drive-up units are used for:
• Students who have sporting goods or outdoor bikes, etc.
• Schools who have a surplus of files and items they don't have room for.
• Businesses who need additional storage or run their operation as a hub out of the unit.
• Homeowners who have a variety of items but no longer have the option of a garage.
• Vehicle storage for cars, boats, SUVs, trucks, RVs, motorcycles, etc.


Searching for a unit in your state or wherever you need one is a breeze. With a click of a button, you've got access to millions of units nationwide. Try it out - we're always here to help.
Benefits of renting a drive-up storage unit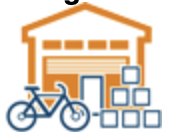 In the past, drive up storage units were little more than a garage, with no climate control to protect the items inside. Today, these units have evolved and now offer many modern features and conveniences to protect your belongings while storing them. As you compare drive up storage units with US Storage Units, look for the features that you need to make your unit work for you.
Security is another feature. Drive up storage units can still be secure, with controlled electronic gate access, good lighting, and digital surveillance, among other security features. Find out what the facility does to keep your goods protected.

Finally, look for a unit that is clean, well-maintained, and has the right access. You may need access to your items 24/7, and not all units provide that. Choose one that will give you access whenever you need it.

Many people and businesses can benefit from the convenience of outdoor storage units with drive-up access. In fact, anyone with extra stuff that they need to store, but still want access to, can make use of these units.
Some specific groups that find these to be helpful include:
• Businesses looking for secure storage for extra files or seasonal items
• Families looking to store outdoor sporting goods, like canoes or bikes, when not using them
• Students who need to store dorm furniture during the summer
• Schools who need to store records and items, like props for the drama department, they only use occasionally
• People looking for a space to store items they inherit from an estate
• People who are moving and need to store items temporarily while in transit
Your Drive Up Storage Solution
When it comes to self-storage convenience, drive up storage offers the most. With a drive up outdoor storage unit, you can easily access your unit to store items of all sizes. When you need an item or need to add more items to your storage unit, simply pull up and take care of what you need.
If you're looking for a drive-up storage unit, U.S. Storage Units has your need covered. We have a database of storage units you can search to find exactly what you need. Over 6,000 locations across the United States have drive up storage units, and there are options in every state. If you want a storage unit that provides fast access and convenience, search U.S. Storage Units today.
What to Store in an Outdoor Storage Unit

One type of item often stored in a storage unit is paperwork. There are files and papers that you need to keep safe, but don't necessarily want or need at your home or business. If you run a business, the need for paperwork storage increases substantially. Putting that in a storage unit frees your home from clutter.

Drive up storage is perfect for furniture. If you have an heirloom piece that's valuable but doesn't fit your current decor, go ahead and store it. Maybe you have furniture that you're saving for your "forever home", but that doesn't currently fit your home. Again, you can store this.

Tools and equipment are helpful to have at home, but they take up a lot of space. That table saw or snow blower that you only need seasonally can go in an outdoor storage unit when not in use. When you need it, drive up, load it, and be on your way.

Larger drive up units are perfect to store your vehicles that cannot be kept on your house or apartment. For example a 5 x 10 drive up unit is perfect to store a motorcycle, a 10 x 10 unit can store a couple of motorcycles, or a wave runner plus an ATV or any combination of small outdoor vehicles. A 10 x 20 drive up unit will store a small car and a 12 x 25 unit will be able to sore a pick-up truck or SUV.
List of cities with self storage